The raunchy low-brow show Sex/Life on Netflix has taken social media by storm with one shower scene, and it features a truly gigantic penis. In doing so, it reduces Adam Demos's character Brad into a big-dicked caricature, as well as engages in blatant objectification, titillation, and belittlement that we should find objectionable for either sex.
And that's not to mention that it's a fake cock and obvious ratings ploy. Well, it worked. I'm writing about it, aren't I?
Screenshots of the giant dick in Sex/Life
Let's get this out of the way right away, in case you're interested… here's the penis in question (episode 3 at 19:50):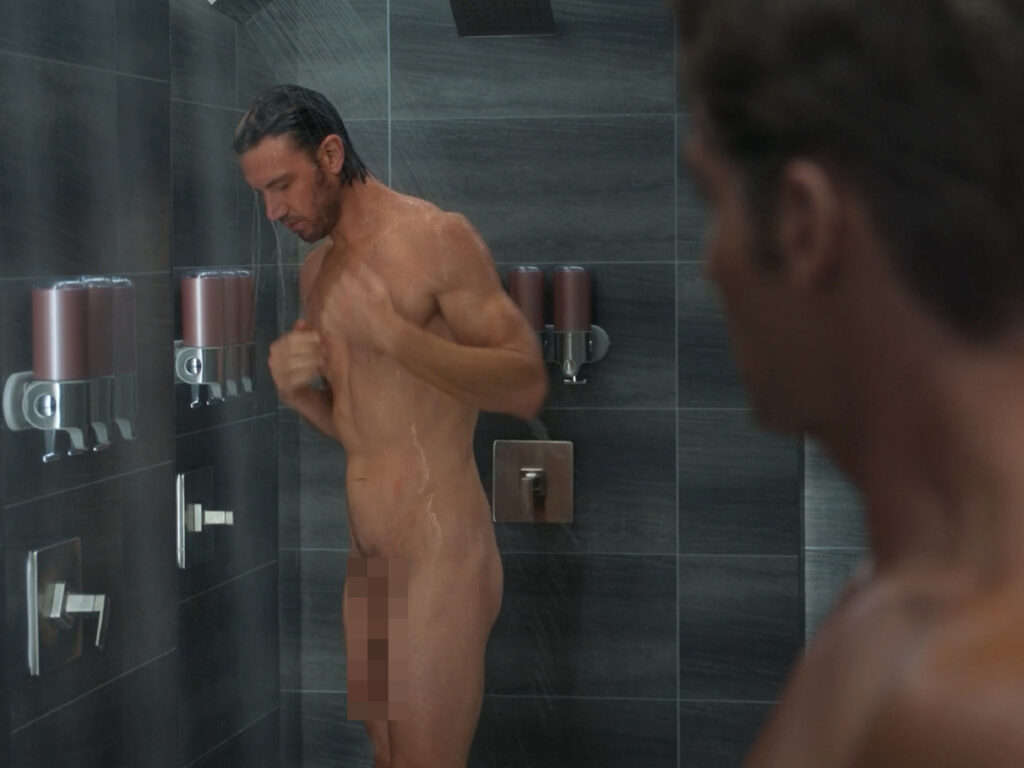 And in full, unpixelated detail in still and gif form, if that's a thing you want to see: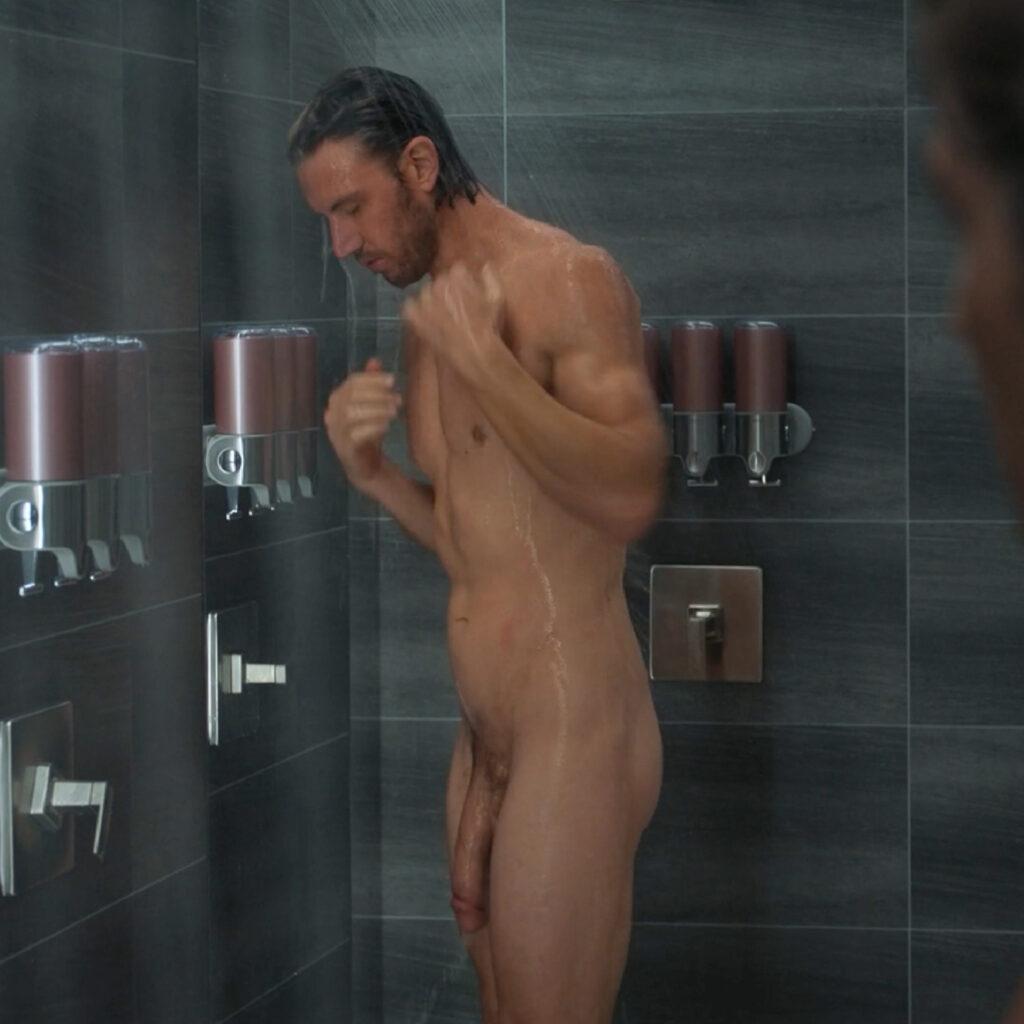 A bit of back-of-the-napkin schlong math points to a penis that's roughly 8 inches long soft. Which would be truly, astoundingly, massive. Even if it doesn't grow much at all when hard, say an inch or two, that's still a very very large penis. We're talking exceptionally rare territory here.
That Brad has an enormous dick isn't an issue in and of itself. It's a steamy drama centered around the married Billie (played by Sarah Shahi) fantisizing about her past lover (Brad) much to the chagrin of her husband Cooper (played by Mike Vogel). It's not a show that shies away from nudity, showing plenty of Shahi's body. It's also a show that's familiar with prosthetics, making frequent use of breast prosthetics to show the realistic changes in Billie's body as a nursing mother in the present versus her pre-pregnancy body in flashbacks with Brad.
The issue is the reaction to it — in the show and by the audience.
The predictable in-show reaction
Our up-close introduction to Brad's dick comes via the jealous stalking of Cooper (ex-boyfriend and current-husband, respectively). He follows Brad to his luxury gym, pays hundreds of dollars for a membership, and then follows him into the very nice open-bay shower (kind of surprising that a gym so expensive doesn't have individual stalls). Lots of gratitous butt shots with Brad facing away, and then he turns around to wash his back and reveal his huge, jiggling cock. Cooper is shocked and turns away, rolling his eyes at his luck.
The unspoken but plainly obvious implication is that Billie's lust for her ex is rooted in his massive penis. How is Cooper supposed to compete with that when she, you know, married him and has had two kids with him. It's a stereotype that plagues men of all sizes: that a larger penis in a woman's past will ruin her for all future partners. Never mind that Billie moved on from Brad's huge dick and agreed to a permanent hookup with Cooper. I've not watched the rest of the show because it's not my kind of schlocky melodrama, but I would not be surprised if Cooper's obsessiveness leads to an even rockier marriage and drives Billie back into Brad's arms.
So here we have Billie reminiscing wistfully about her past relations with Brad. And Cooper obsessing over that reminiscing and feeling thoroughly emasculated by the mere sight of Brad's endowment. Where's Brad in all this? Dude's just taking a shower after a good workout, being oggled and objectified by some guy. That kind of locker room attention is something that well-endowed guys often have to deal with, but that doesn't excuse Sex/Life's portrayal of Brad and his huge dick as a sex object and little more.
The disheartening online reaction
Goodness knows that a gender-flipped portrayal with one woman stalking another into the gym showers and then staring at her nude form with breasts that are impossibly large yet perky, with the camera staring as well, even punching in for extra detail, would be treated as a sexist and outdated trope. And while it is fun to see gender tropes reversed — more equality in on-screen nudity is fine by me — the reaction by social media and pop culture bloggers has been thoroughly dismaying.
Article after article has been written about this scene and the social media reaction to it. They all use titllating language to describe the scene without touching on the obsession, violation, and objectification. Granted, a fair amount of that is just trying to appeal to the masses. Sex sells, after all. And maybe it's unfair to expect more of pop culture blogs; their job is to cater to the lowest common denominator.
The reaction on social media was equally disheartening, with the objectification on full, unvarnished, and unashamed display. A sampling:
Tiktok make me watched sex/life episode 3, 19:50 on netflix and this is my reaction pic.twitter.com/29xYkC0F42

— meow (@farahmieow) July 6, 2021
#sexlife episode 3 19:50 mins in
Lol. Whew chilaay! pic.twitter.com/h3S6cpHGtn

— shenekarushell (@ShenekaRushell) July 8, 2021
When he turns around and… 🍆🚿😲 #SexLife #CelebrityGogglebox pic.twitter.com/RjgFWnj6TD

— C4 Gogglebox (@C4Gogglebox) July 9, 2021
When Cooper saw Brad's dick for the first time #SexLife

But also me: pic.twitter.com/3LCQNicboi

— kdaddy 🖤 (@TRVPBODIVN) July 8, 2021
If we're to have true equality, that doesn't mean it's okay for men to be objectified now just because women have been and still are. We should all strive to be treated like the fully realized humans that we are, and expect the same from our entertainment.
Netflix's reaction
It's safe to say that Netflix expected this kind of reaction. They're obsessive about optimizing for whatever they think will get the most eyeballs, and little gets that more than shocking nudity. It's been so effective that Sex/Life rocketed into the top 5 shows on the streaming service.

Netflix is even playing into the popularity with very suggestive social media postings. They know what's up.
Which of these best captures your reaction to THAT moment in Episode 3 of Sex/Life? pic.twitter.com/shoW3fKJnp

— Netflix (@netflix) June 29, 2021
Showrunner Stacy Rukeyser is obviously in on it, and spins it as an important artistic choice in an interview with Collider:
It was important to show how down the rabbit hole obsessed he has gotten, that he is now stalking his wife's ex-boyfriend … So it was not just for titillation's sake. It's a real story point to show how obsessed he is, and that that's what it's come to. … The camera hangs on the male bodies a little bit more than on [Billie's] body because that's her gaze, that's her experience of it.
Uh huh. Yeah. Showing an enormous penis was to make a point about one man's obsession. Suuuure.
A podcast managed to drum up some supposed "friends" from Adam Demos's hometown who claimed to be able to vouch for his endowment, but let's be real: a screencap of a DM does not proof make. Of course, a bunch of less-rigorous publications ran with it, publishing article after article saying that it was actually Demos's penis.
The huge Sex/Life penis is a fake
The thing with so huge of a penis is that most people lack a frame of referece for what it would look like or how it would behave. As the owner of a very large cock, I can say that I have the hands-on experience to firmly state that Brad's penis on Sex/Life is a fake.
That's not to say that penises that big don't exist; it's possible but exceptionally rare. Demos and Rukeyser are both playing into it though. Said Rukeyser in the Collider interview:
That's not a body double. I mean, people usually ask is it real or is it a prosthetic? … I can tell you what Adam Demos says about it [being a prosthetic] which is, a gentleman never tells. So, we are leaving that up to the viewer's imagination.
Sure, that's Demos's ass and body, I can easily believe that. But that's not his dong. Two big issues stand out here. One is that Demos otherwise never exhibits a noticeable bulge, which would be impossible to supress with a penis that big — especially when he wears skinny jeans that would show everything. The second is the unnatural way the dick moves; even when fully soft a large penis will flop and move as one unit, especially when turning around like that, while Brad's just sort of wiggles in the bottom third. That's a strong sign that this is a prosthetic, perhaps a sleeve over Demos's actual penis (which may well be large, but not that large).
Newsweek opted to dig further than the showrunner's coy statements, and confirmed with members of the show's prosthetics team that the huge penis on display was indeed a fake. A very convincing fake, but a fake nonetheless.
Unhelpful big dick stereotyping
Brad's giant cock in Sex/Life just perpetuates unfair and untrue stereotyping. It says that even a successful and attractive man like Cooper should feel emasculated by the mere existence of an enormous penis like Brad's. It says that the average man won't ever live up to his current partner's previous well-endowed lovers. It says that women lust for massive dicks to the point of unfaithful thoughts leading to infidelity. It sets unrealistic expectations of the size of penises that are out there.
Stereotyping isn't acceptable if it's coming from women. It's not okay to so blatantly objectify a person just because of his endowment. It's not fair to literally anybody — women or men of any endowment. You're either the object or the objectifier, and that's not cool at all.