Trojan's Magnum condoms have a reputation for being big condoms for big dicks. The gold wrapper is synonymous with huge cock. But that reputation? It's not well earned. Magnums aren't for big dicks at all, especially not these days when there are much better options.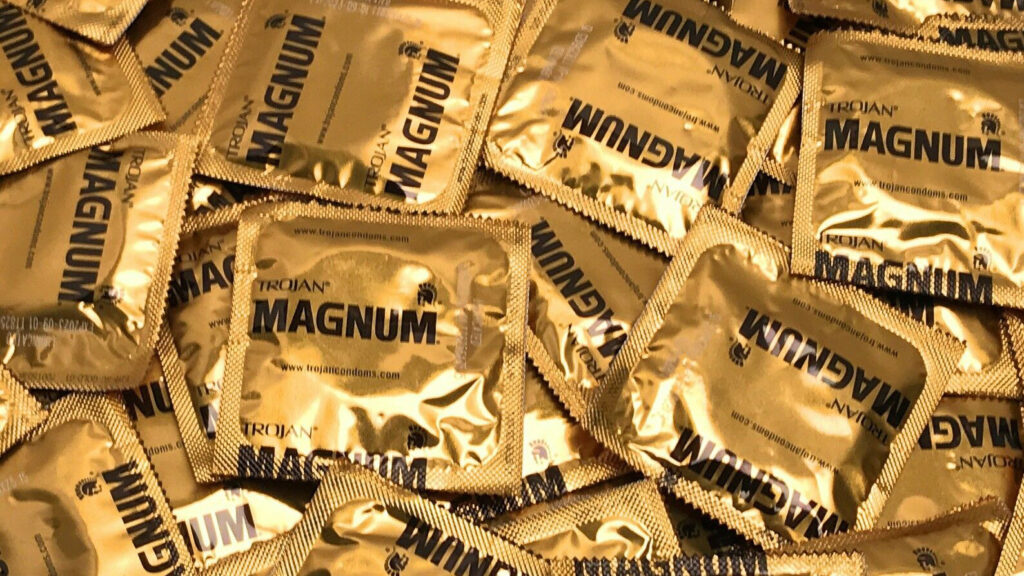 There are two main things to know about Magnum condoms:
They date from a time when truly large condoms were not allowed in the American market.
Magnums are no wider at their base than a regular size condom, though they balloon out to a baseball-bat shape further up the shaft.
Condoms are measured by their nominal width, which is where the condom is fully unrolled and then laid flat like a deflated balloon, then measured across that width at the opening. A typical "regular" size condom made for a typical 4.5-inch-girth dick has a nominal width of 52mm.
So what size are Magnums? The standard Magnum has a nominal width of 55mm, while the Magnum XL condoms have a nominal width of 58mm. That's right, at the opening, where most of the pressure is going to be on any dick, Magnums aren't appreciably bigger than a regular condom.
Length-wise, neither Magnum nor Magnum XL (7.9 inches) is substantially longer than the regular size competition (7-7.5 inches). The biggest difference with Magnums is in their shape, and it's best described as a baseball bat: narrower at the base and wider towards the end. Magnums flare out as they go, with the standard Magnum reaching 62mm nominal width at the head, and Magnum XL expanding to 64mm.
The problem is that they're still the size of a regular condom at the base, where many thick dicks are their thickest. Having all that constriction at the base can inhibit blood flow and reduce erection strength, as well as dampen sensitivity.

The shape of Magnum condoms works well for a small subset of men with dicks that get thicker as they go, and even then it'd be best if they not have a base girth any bigger than 5.25 inches. But for the men with dicks that are wide across the entire shaft, or girthiest at the base, they're far from the best option.
Magnums may be synonymous with big, but they're just not. 54mm is too small for most of guys in search of larger condoms because the regulars they tried were just too tight. A man with 5.5-inch girth should be looking at 60mm or 64mm condoms!
I know that many of us, Magnums may be the biggest available at the local corner store or pharmacy. You might have to turn to the internet to buy condoms of an appropriate size. And you know what? You should do that. Shop online, order some lube and a stash of condoms that actually fit you, and then you won't have to run to the store every time you're going to have sex. Latex condoms typically have a shelf life of 3-5 years, so there's no reason not to have a stock of them in your nightstand.
Magnum condom alternatives
If you're in need of truly large condoms, there are now better options. Custom-size companies like My.Size and MyOne offer wide and long condoms at 64mm and larger nominal width, while Durex recently revamped the Durex XXL to be a cylindrical 64mm. On the high end at 69mm, you can also find Pasante Super King. It's worth noting that the largest condoms sold in the US are 64mm, so any 69mm condoms will have to be ordered online and imported.