The curse of having an extremely thick penis in the United States is that the world's largest condoms aren't sold here, at least not directly. In the USA, the FDA only regulates condoms as large as 64mm (like the new 64mm Durex XXL), so while technically somebody could make and sell a larger condom here, no store is willingly going to sell unregulated medical devices. So what's a guy with a girth that demands a bigger nominal width to do?
Importing is the answer. While the FDA limits condoms in the US to 64mm, in Europe you can buy even wider condoms, among them is Pasante's huge Super King. This UK-based condom manufacturer has been making these huge 69mm nominal width condoms for years and they fit great for guys with 6 inches of girth of more. Seeing as they're not directly for sale in the US, if you Americans want to get your hands on them you're going to have to import them yourself from a European seller or buy from one of the handful of importers that handle that for you.
Regardless, you're going to pay a bit more and maybe wait for the privilege, so it's a good idea to buy these well before you need them and so you have a stock on hand for when the time comes.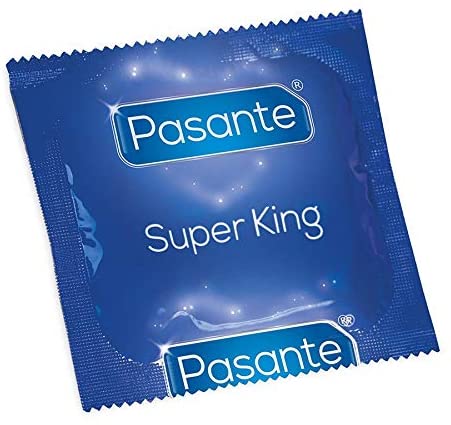 Pasante Super King 69mm condoms
69mm nominal width
One of the widest condoms available anywhere, the Pasante Super King is a great fit for men with 6 inches of girth or more.
Pasante Super King alternatives
If you're looking for other extra-large condom options, there are a few other 69mm condoms available from American importers. Additionally, 64mm condoms are more readily available in the US and can even be bought in some retail stores — they might be somewhat snug on cocks with girth of 6 inches or more, but it's better than using regular-sized condoms or so-called "large" sizes like Trojan Magnum. Here are a few options worth considering: