The upgraded Durex XXL is among the largest condoms available in America, and it's just about the only 64mm one sold in stores.
If you're confused because you tried Durex XXL in the past and it wasn't nearly big enough, you're not wrong. Prior to mid-2020, Durex XXL was a knock-off of Trojan Magnum — a not-actually-large baseball-bat-shaped condom designed to offer something kinda big while staying within the US FDA's then-limit of 56mm nominal width. For guys that needed more than that, it sucked. And for Durex, it also kinda sucked because Magnum gobbled up all of the air in the "condoms for big dicks" market. While Durex XXL might've been a reasonable alternative, nobody was buying it because Magnum was synonymous with "big".
But then in 2016 things changed. After a lot of work on the part of condom manufacturers, the FDA both increased the maximum nominal width and decreased the minimum, opening the door for condom makers to start producing rubbers to fit even more men. There was much rejoicing on both ends of the spectrum.
So, saddled with "XXL" condoms that not enough people were buying, Durex retooled the product. It now has a cylindrical shape with a roomy 64mm nominal width from base to tip, measuring 220mm (8.66 inches) long. It went from an also-ran to one of the largest condoms available in America.
And thanks to Durex's market strength, unlike other similarly large condoms this one is available in retail stores and not just online. Initially the new Durex XXL was only available at Target stores and online at Amazon, but in the months since launch it has expanded to more stores across the nation (and disappeared from the shelves at Target). International availability isn't yet a thing, nor wide availability at locations like most pharmacies and gas stations. But we're getting there.
For men with girths of 5.5 inches or thicker, the new 64mm Durex XXL condoms are a godsend.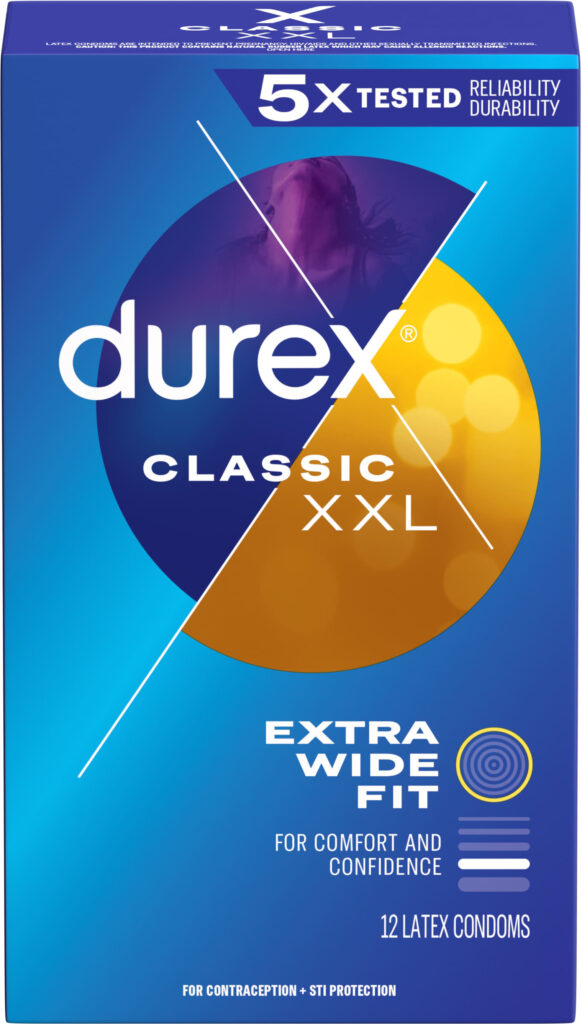 Durex XXL 64mm condoms
64mm nominal width
New to the market in 2020, the redesigned Durex XXL condoms offer a 64mm nominal width in a cylindrical shaft that's roomy from base to tip. At 8 inches long they're also among the longest condoms you can buy.
Durex XXL 64mm alternatives
Durex isn't the only extra-large condom option on the market in the US. A few other condom makers sell roomy 64mm condoms, and you can also import 69mm condoms like Pasante Super King and My.Size 69 from Europe, though you'll pay more to do that.