One of the biggest revelations for men with a lot up front has been the emergence of pouch underwear. But what exactly is "pouch underwear"?
There are radically different takes on pouches, from an extra bit of stretchy fabric up front in the classic Calvin Klein brief to the massive structured junk pockets of WildmanT to the multi-layered designs of Separatec. They're all described as "pouch underwear", but can we really say that they're the same thing?
I've spent too much time and money searching for underwear that fits my generous endowment comfortably, and while I have my own preferences, I've also come to realize there needs to be more stratification of the so-called "pouch" marketplace.
I define pouch underwear as "underwear structured to provide support, control, and a comfortable amount of space for a man's genitals."
With that set, let's draw some lines in the sand.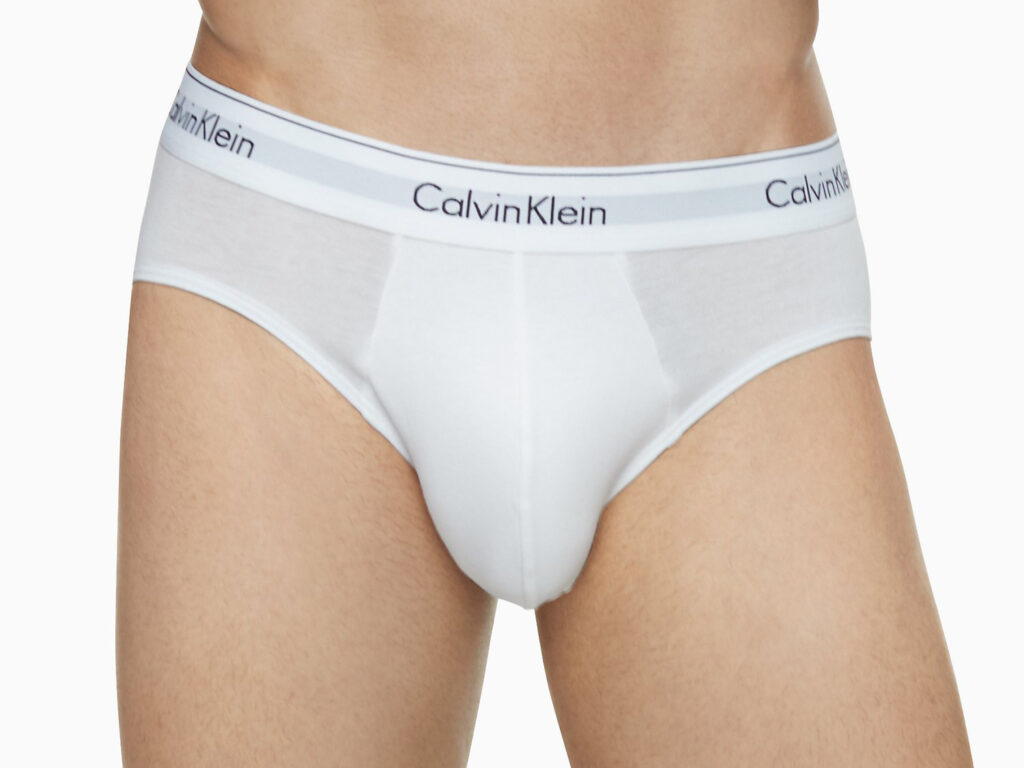 Extra space underwear
Extra space underwear are briefs or boxer briefs that are cut in such a way that there's more space and stretch up front than you get with standards like Hanes or Fruit of the Loom. Though many of these claim to be pouch underwear, due to the lack of control structure I submit that they are not at all.
There's some variation on how well extra space underwear will work for larger guys, depending on how stretchy the fabric is, but generally these are just more comfortable for normal guys or true growers.
As these are closest to traditional designs of underwear, there are many options available for this style:
American Eagle
Baskit
BN3TH (formerly MyPackage)
Brave Person
Comfyballs
Endowed
ExOfficio
Lapasa
Lululemon
Mack Weldon
MeUndies
Pair of Thieves
Uniqlo
Xmark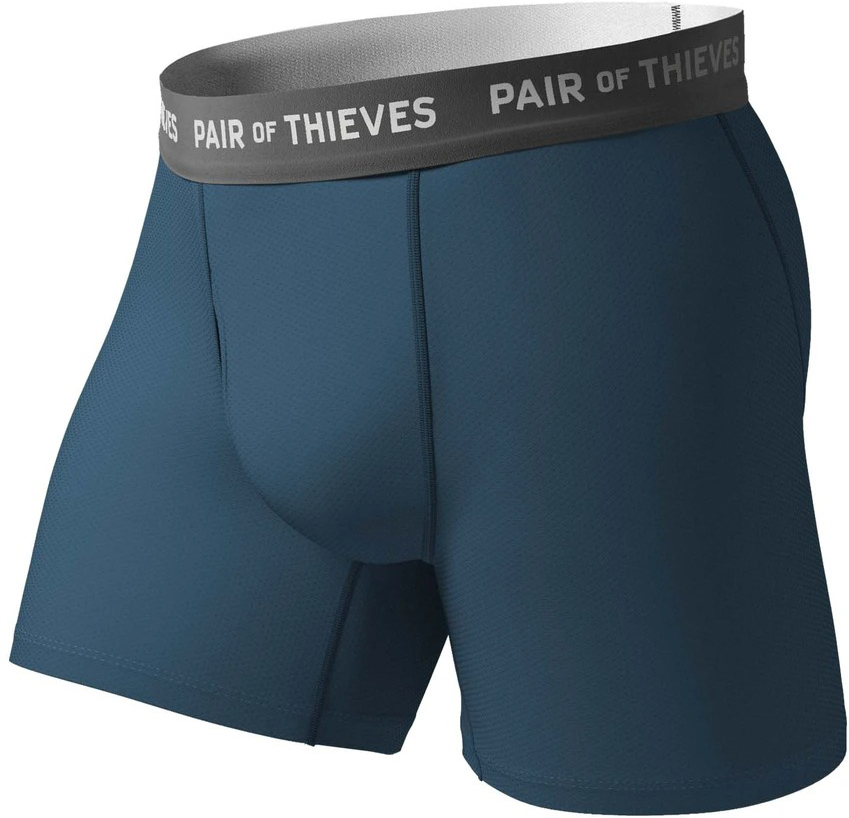 Pair of Thieves SuperFit boxer briefs
Pair of Thieves' quick-drying SuperFit fabric and flat-stitch assembly make for a supremely comfortable boxer brief that'll keep you cool and dry all day long.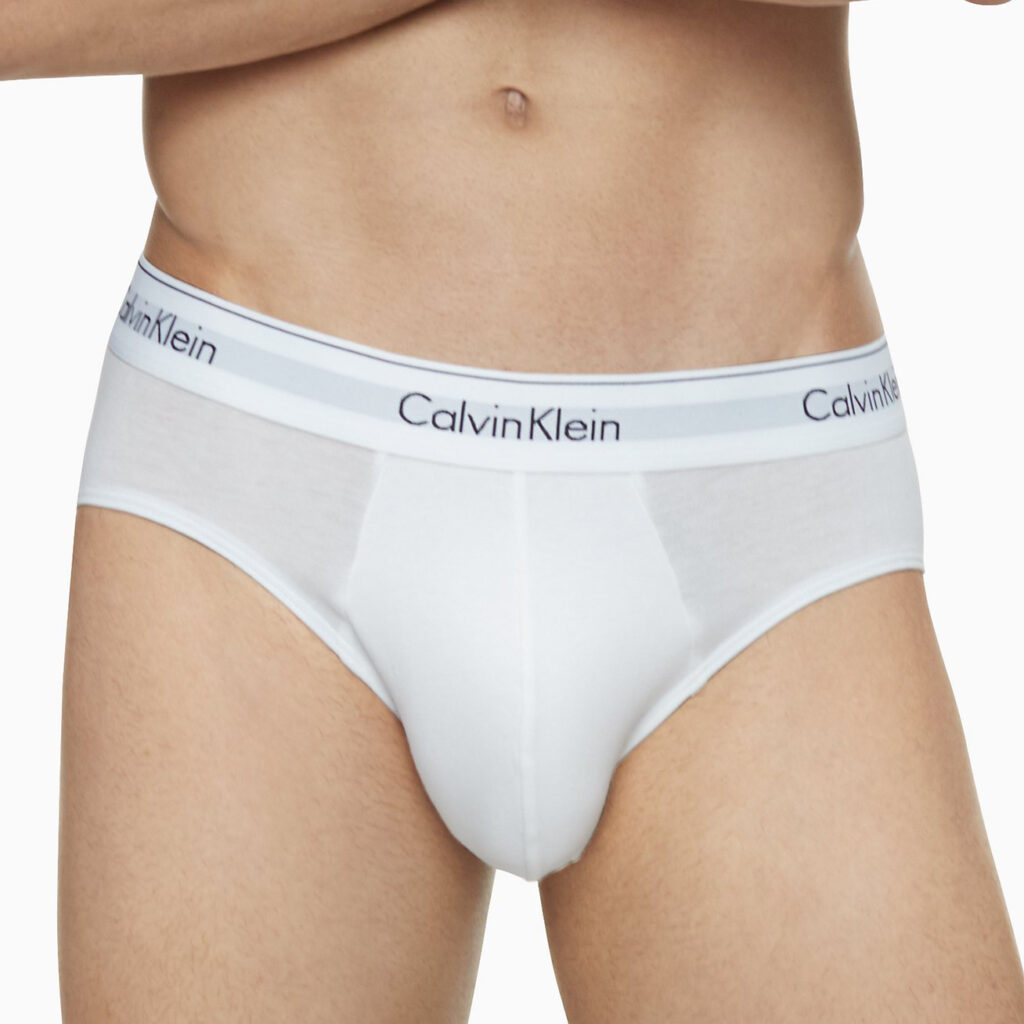 Calvin Klein Modern Cotton Stretch hip brief
Calvin Klein is undeniably an iconic brand in men's underwear, and there's nothing in their line-up more comfortable than the modern cotton stretch hip brief.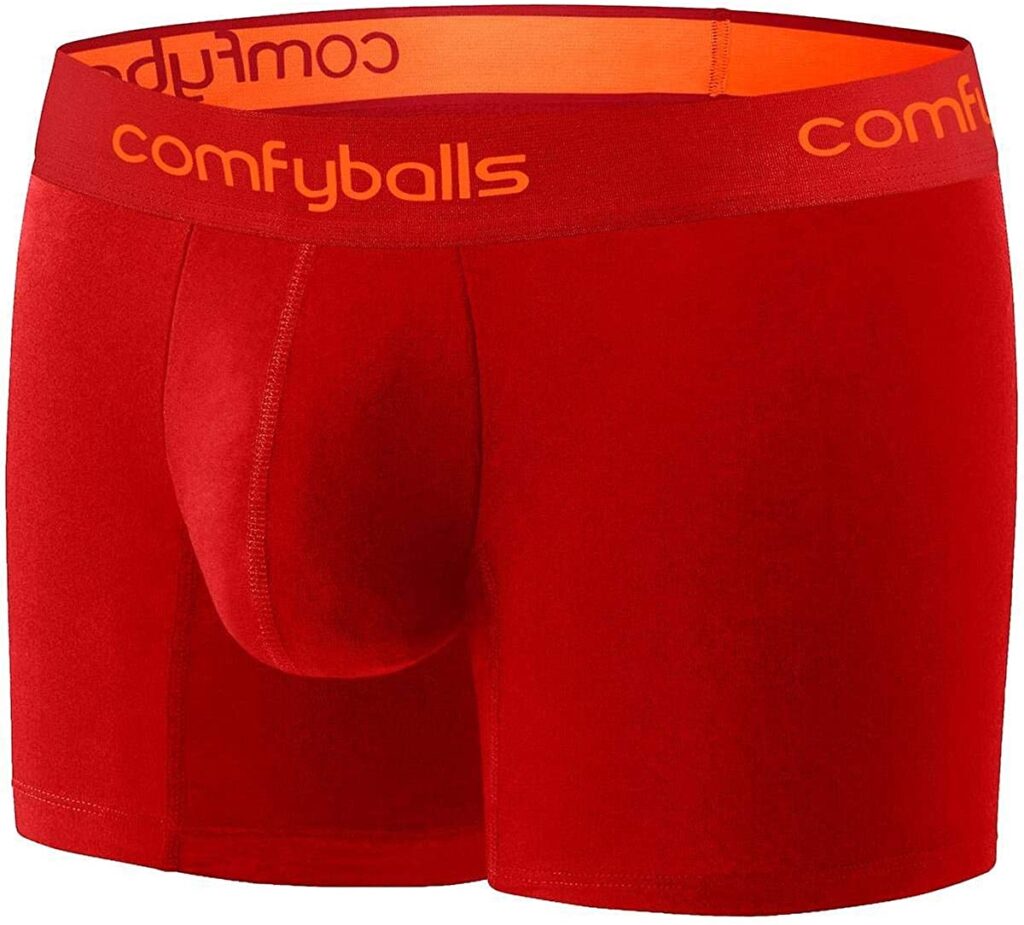 Comfyballs Men's Performance boxer briefs
Get your boys in a comfy spot with a some more room up front where you need it.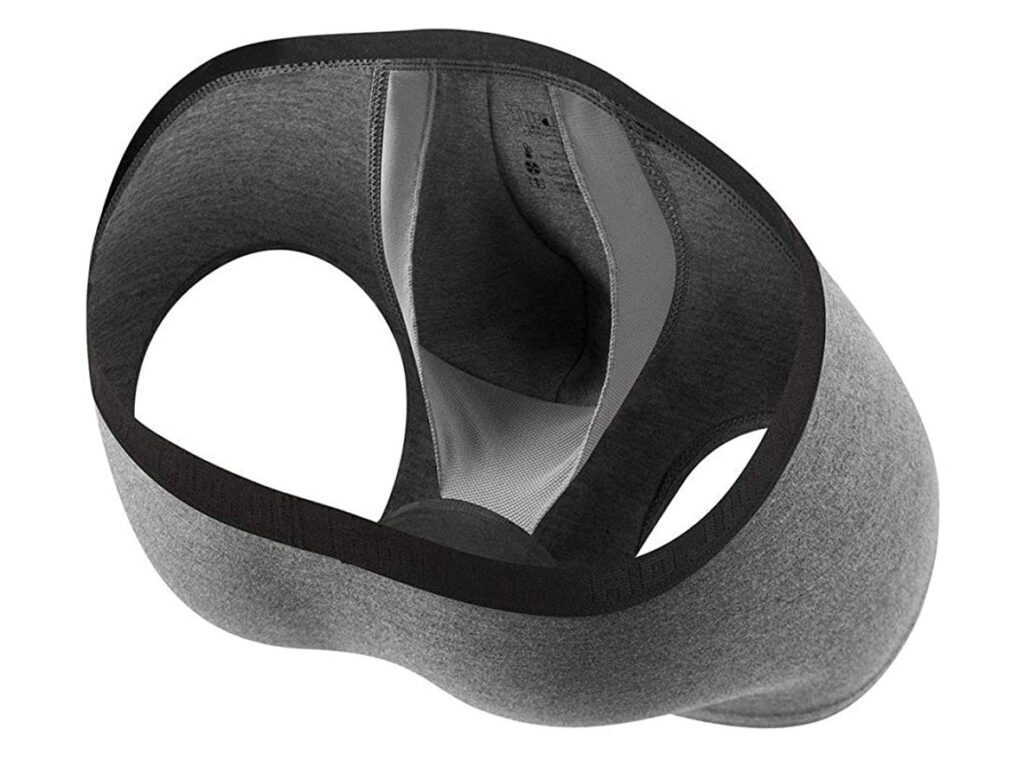 Bounded internal pouch
The first of three types of actual pouch underwear, these aim to maintain a generally "normal" appearance by building the pouch on the inside of the underwear. Bounded internal pouch underwear are almost exclusively boxer briefs and trunks, as briefs generally provide the same control mechanisms via the higher-cut legs.
The typical design of these is either a pair of elastic walls that bound either side of the groin or a single-piece wall that wraps behind the scrotum. Either way, they provide a control mechanism that prevents your dick and balls from falling down a leg, reducing chances for crushing and rubbing the wrong way.
A few companies make underwear in this style:
Duluth Trading Co. Bullpen
Jockmail
Joe Boxer Junk Drawer
Shinesty
UFM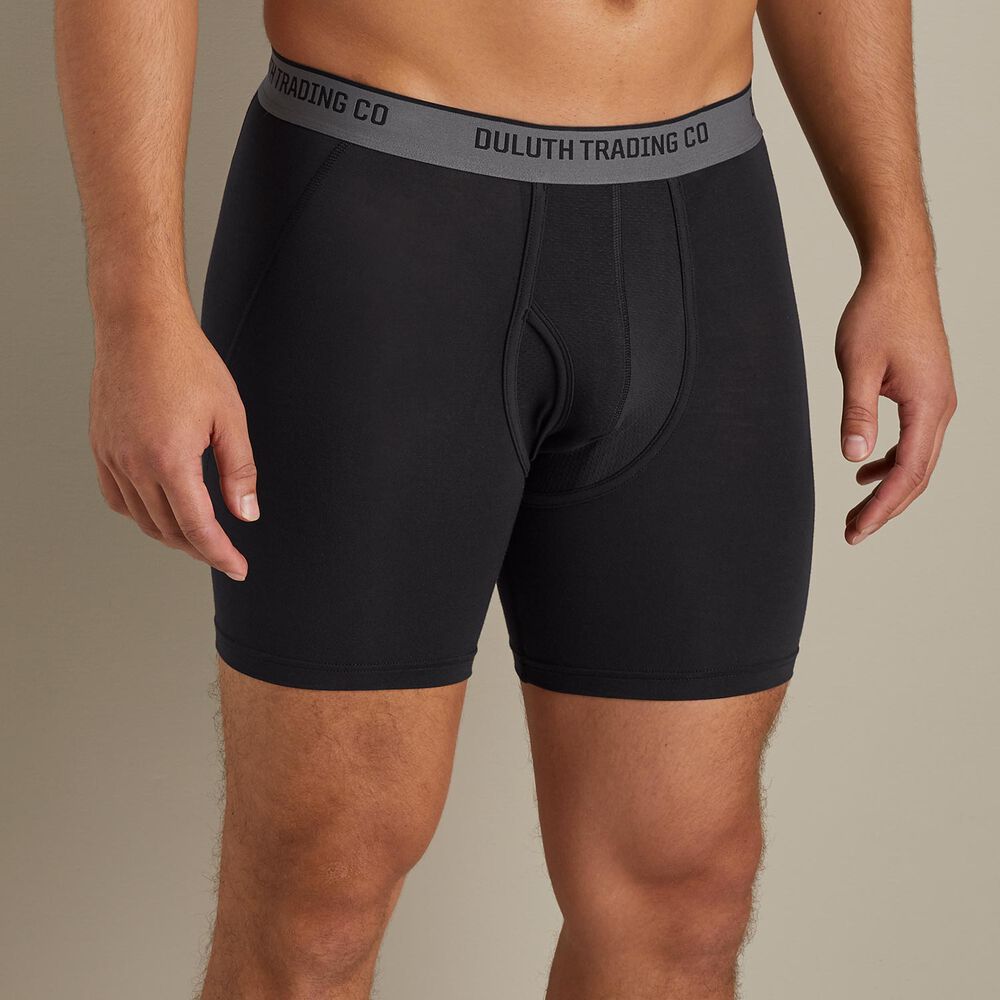 Duluth Trading Dang Soft Bullpen boxer briefs
The internal "Bullpen" pouch of Duluth Trading allows for a more traditional appearance while not sacrificing comfort. Made from soft MicroModal fabric.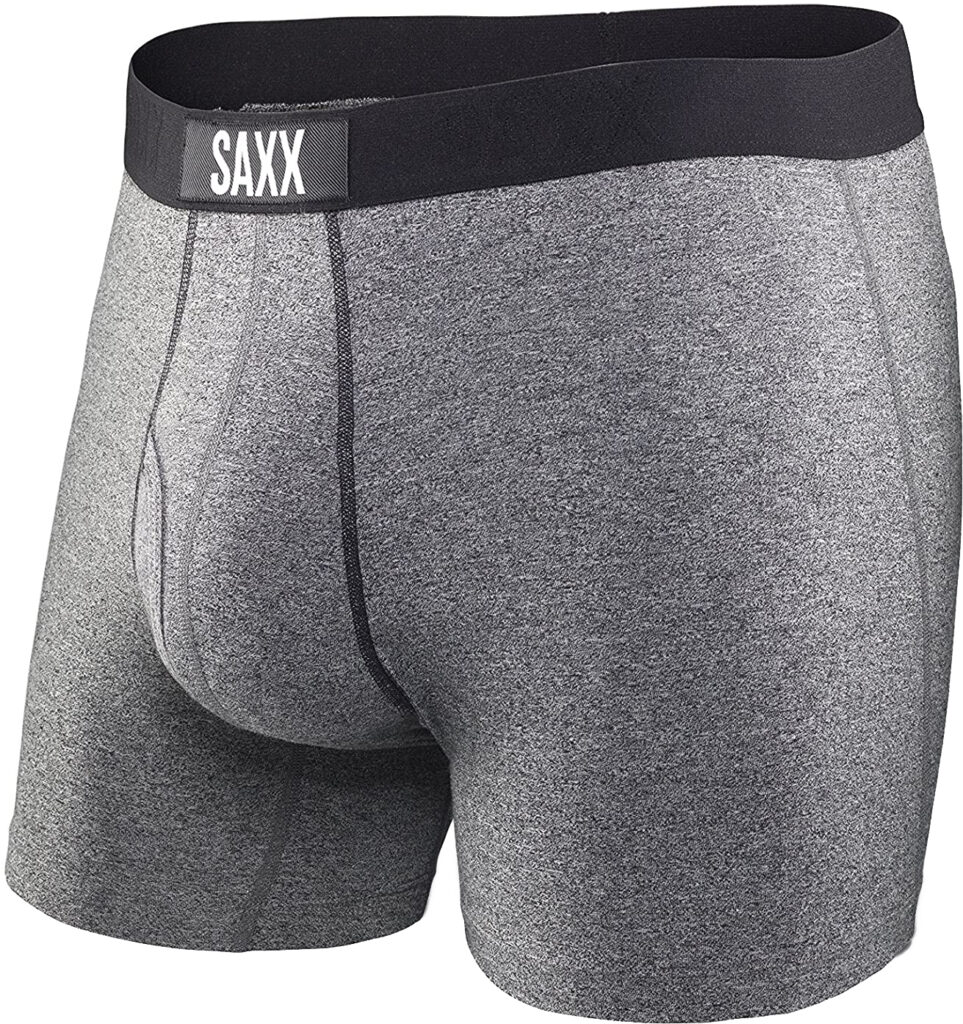 Saxx Ultra boxer briefs
Saxx's signature Ballpark pouch provides space for your junk to reside, and keeps it from slipping down your leg.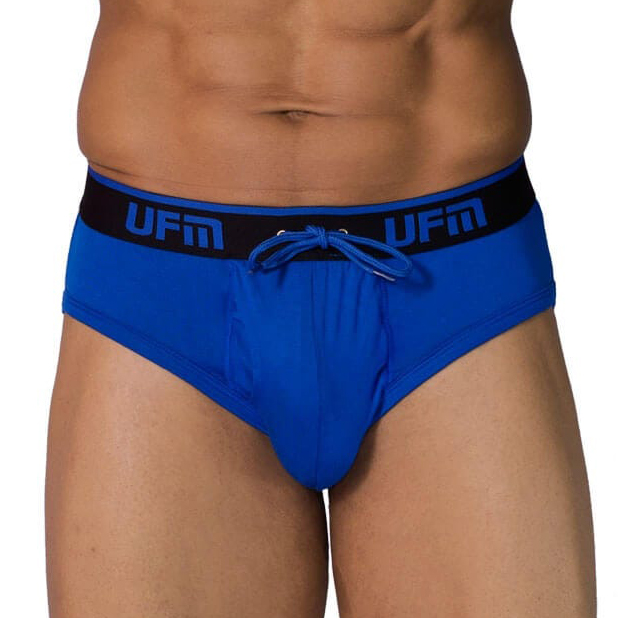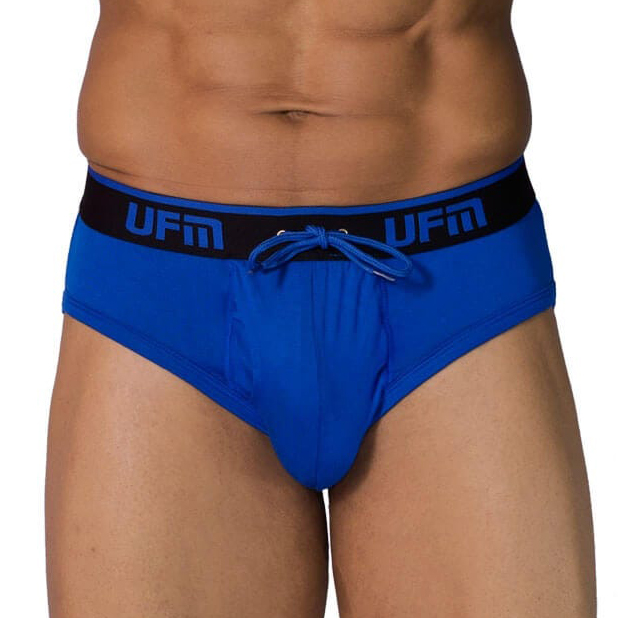 UFM Viscose Everyday Gen 4 briefs
UFM's unique adjustable pouch drawstrings allow you to tailor your fit and support throughout the day.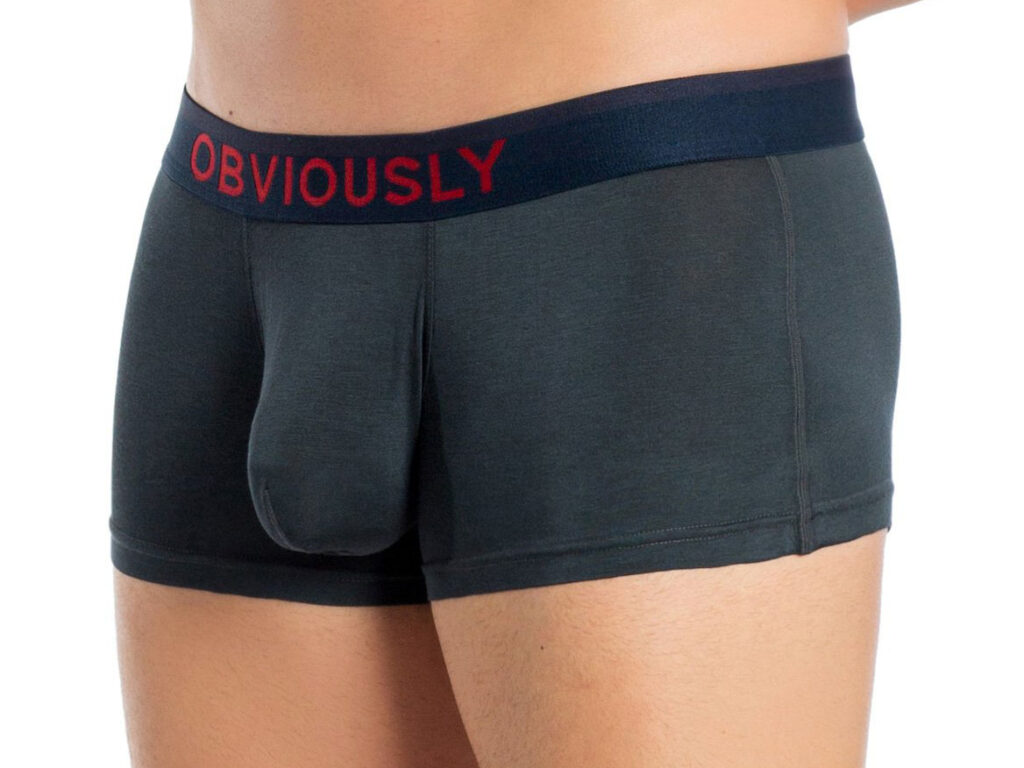 Structured external pouch
Structured external pouch is as the name describes: there is a pouch for your junk that is decidedly separate from the body of the briefs or boxer briefs. The body tends to fit more snuggly around the hips, butt, and through the taint, with a defined drop in the fabric where the pouch begins.
External pouch briefs provide full separation between your junk and thighs, and generally allow for a more natural hang while still keeping everything contained and somewhat controlled in a single package. These are well-suited to men with average to large packages (soft, of course) that aren't afraid of showing some bulge. By design you're expected to situate your dick pointing down into the same pouch as your balls.
If you prefer a conservative appearance, then these aren't for you. External pouch briefs tend to put you more "on display" than other styles of underwear, so locker room discretion is out the window with these.
There are several options in this category:
Eletrunks
Hung
Jockmail
John Sievers
MCK
Obviously FreeMan
Otzi
Sukrew
T-Bô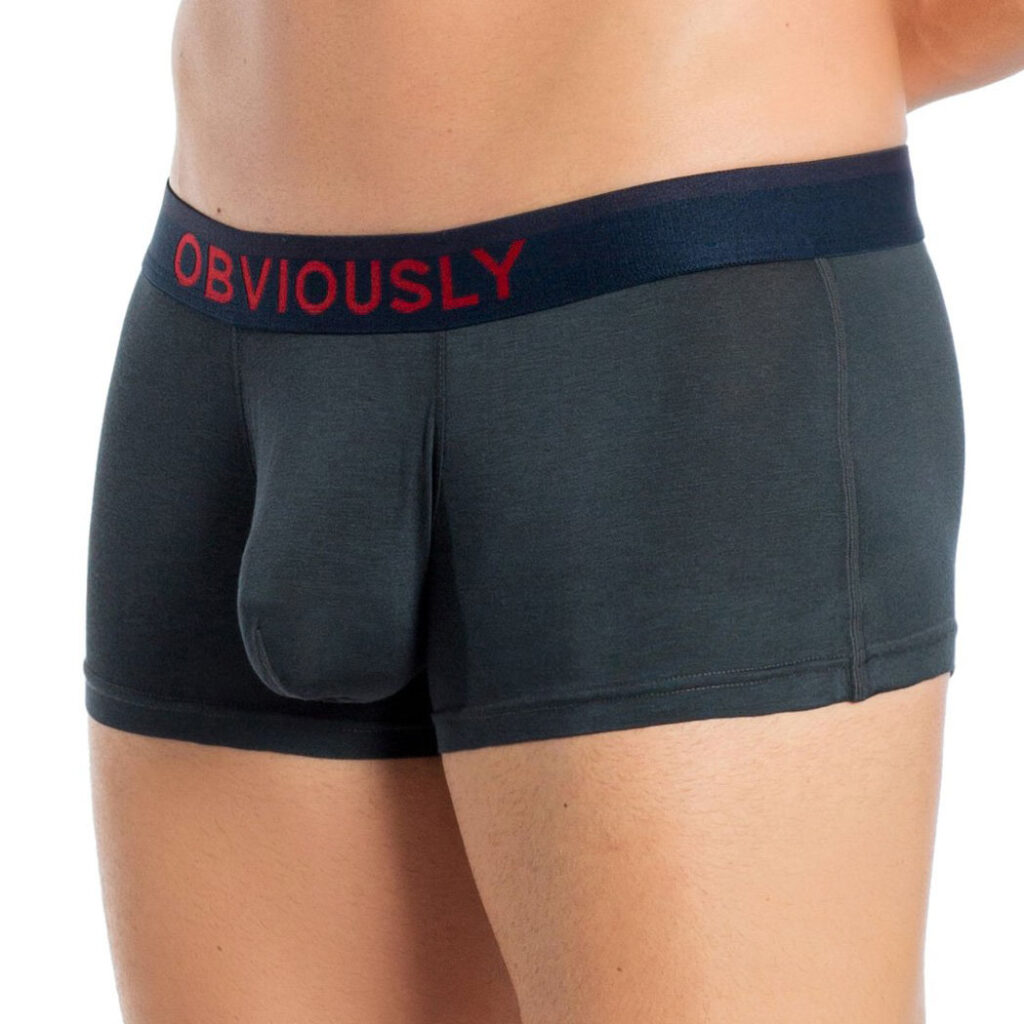 Obviously FreeMan trunk
With Obviously's AnatoFree pouch providing support and room to breath, these simple yet stylish trunks are a great fit for most men.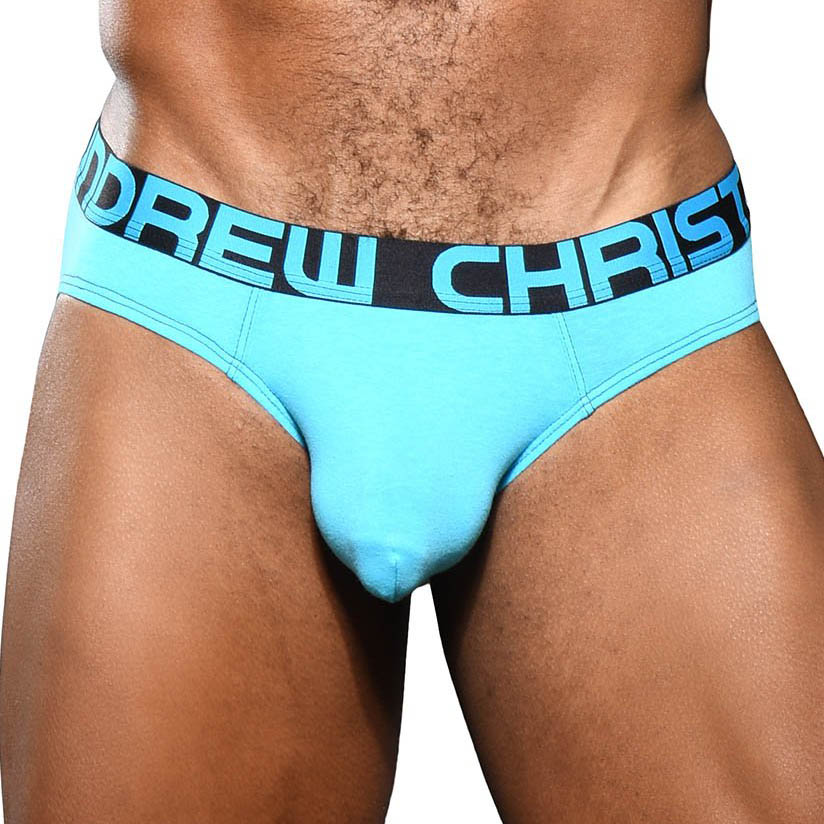 Andrew Christian Almost Naked brief
Feel good and look good in Andrew Christian's comfortable Almost Naked anatomical pouch briefs.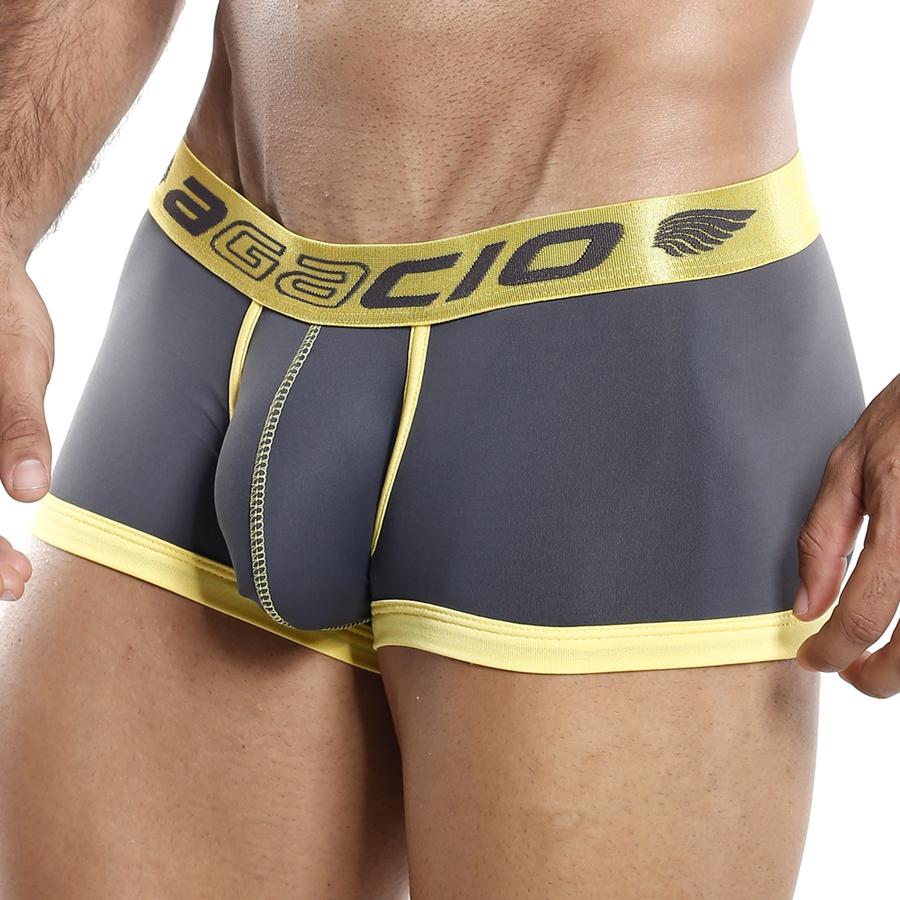 Agacio boxer trunk
Get some more room and a bit of pop-out enhancement front and back with Agacio's comfortable boxer briefs.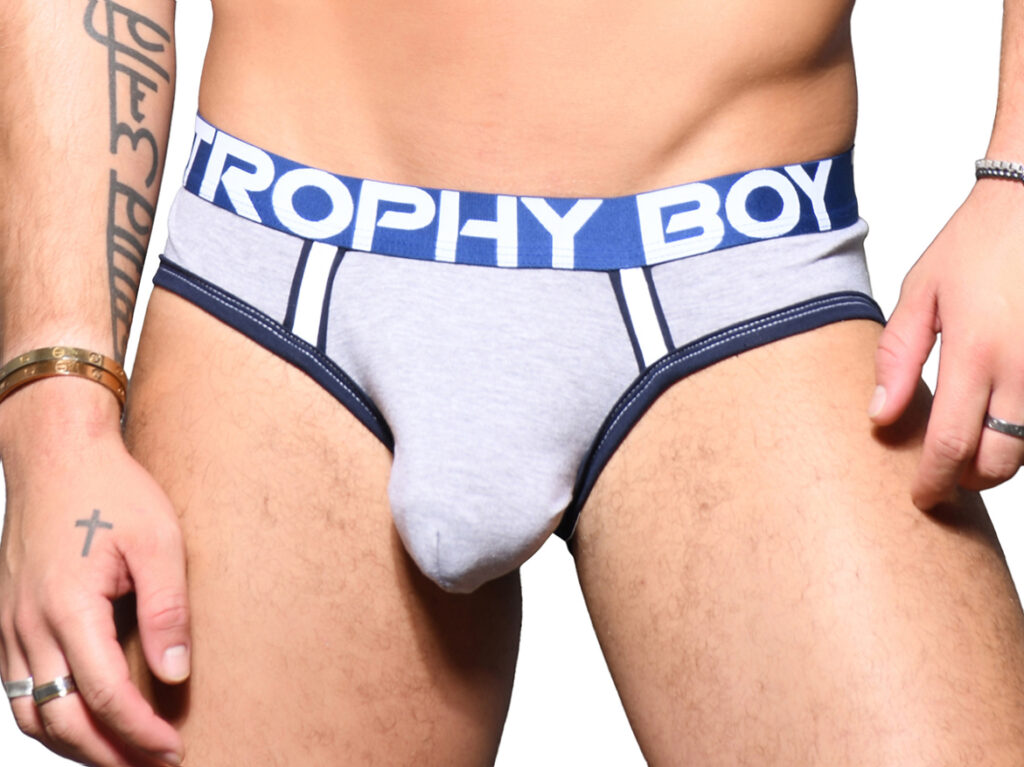 Large structured external pouch
A sub-type of the structured external pouch is the large pouch variant. These offer substantially larger pouches and thus much more room for men that have much more they need to fit inside their drawers. On the flip side, the larger pouches by definition create a much larger bulge in shorts and pants, and don't offer as much motion control. But for the man with a lot of soft dick and big balls, these extra large pouches can be a godsend. Just don't count on discretion or low cost.
There are only a few brands that produce underwear of this style: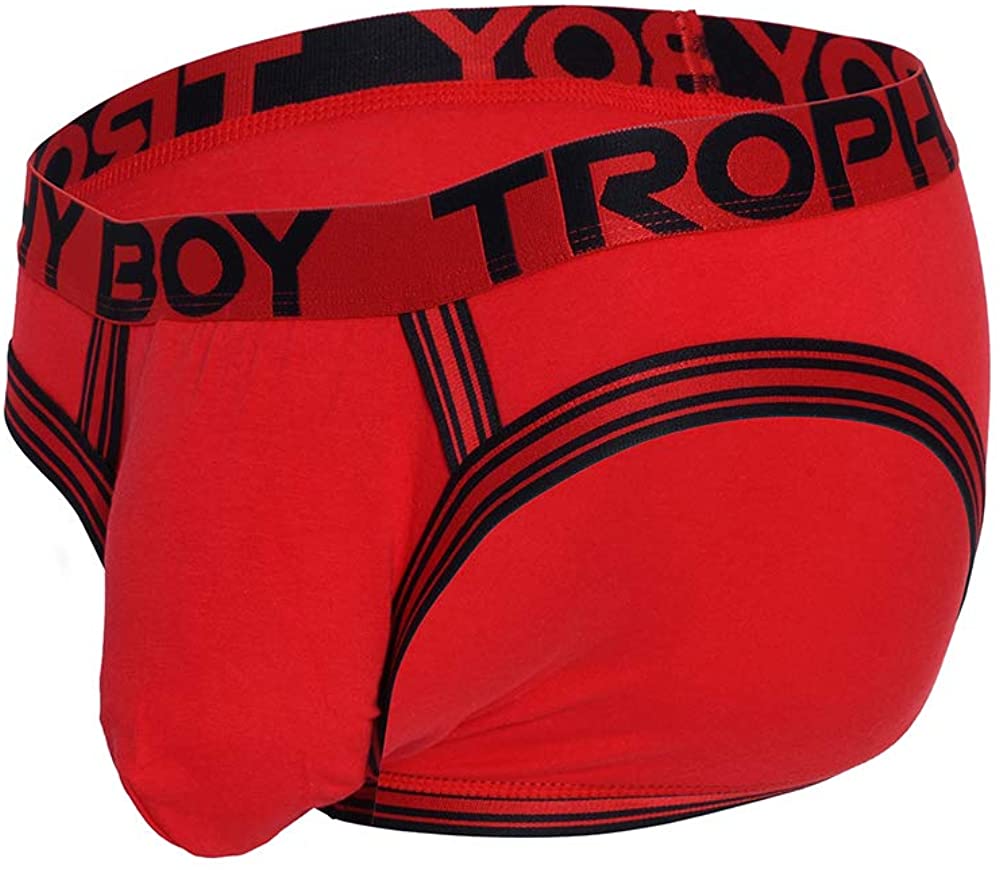 Andrew Christian Trophy Boy brief
Underwear for guys that are hung — the Trophy Boy pouch is among the largest on the market and provides the room that men with huge dicks and big nuts need to be comfortable and supported.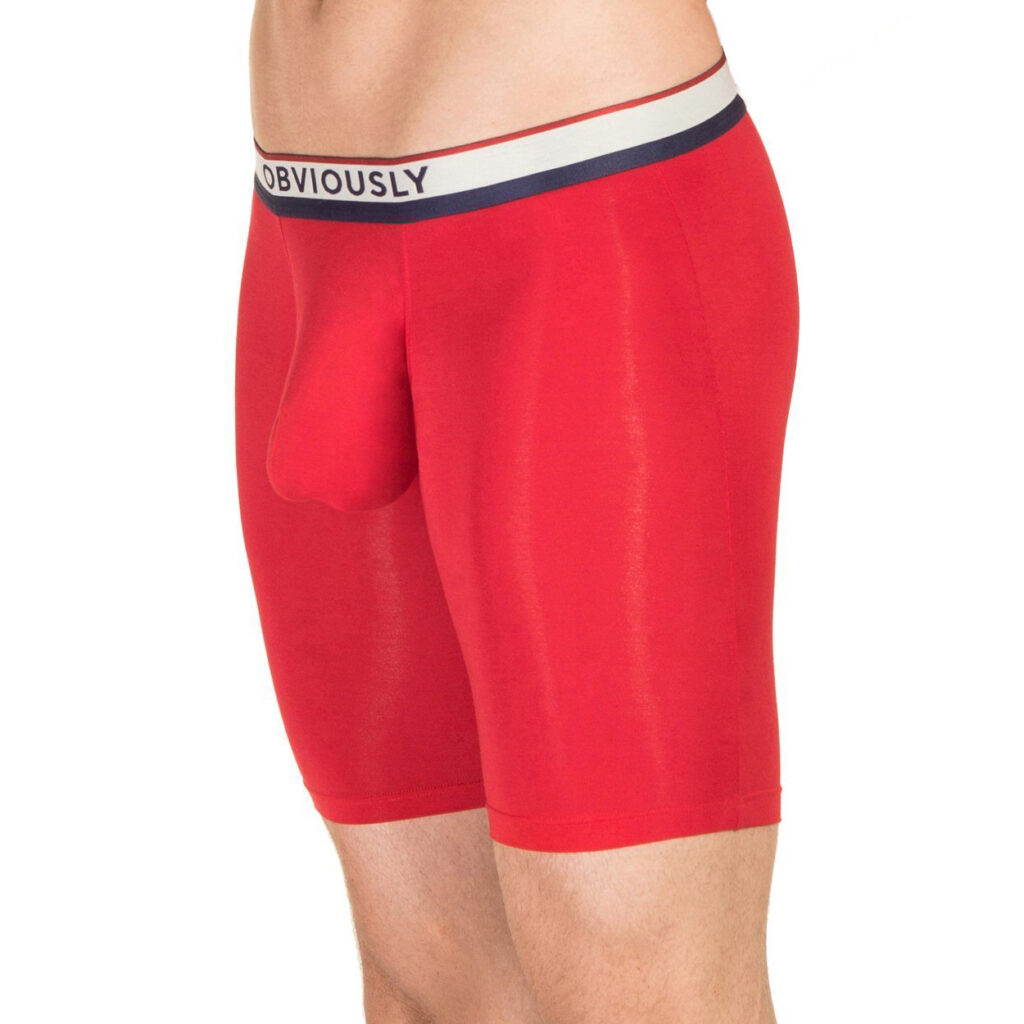 Obviously PrimeMan 9-inch boxer briefs
With a long and stretchy pouch made from a MicroModal/Lycra blend, Obviously's long-leg boxer briefs provide the room a well-endowed man needs in a subdued style.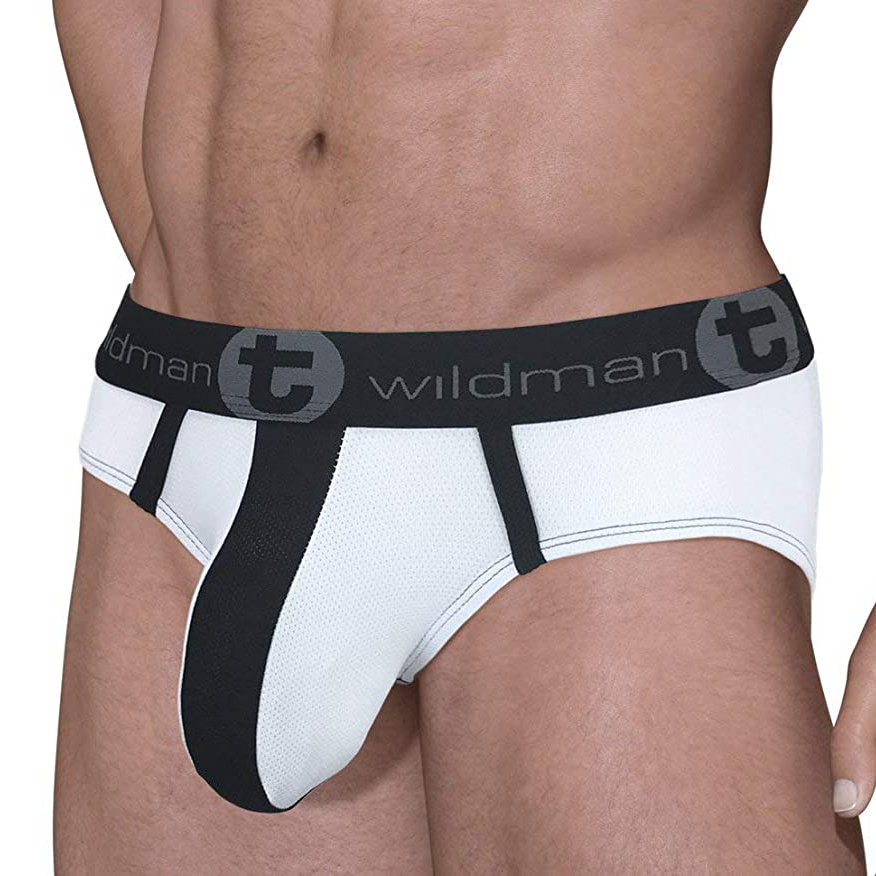 WildmanT Big Boy Mesh Stripe brief
The biggest pouches around are found in WildmanT's Big Boy line. Room to breath and hang, but not flop about with wild abandon, is the name of the game.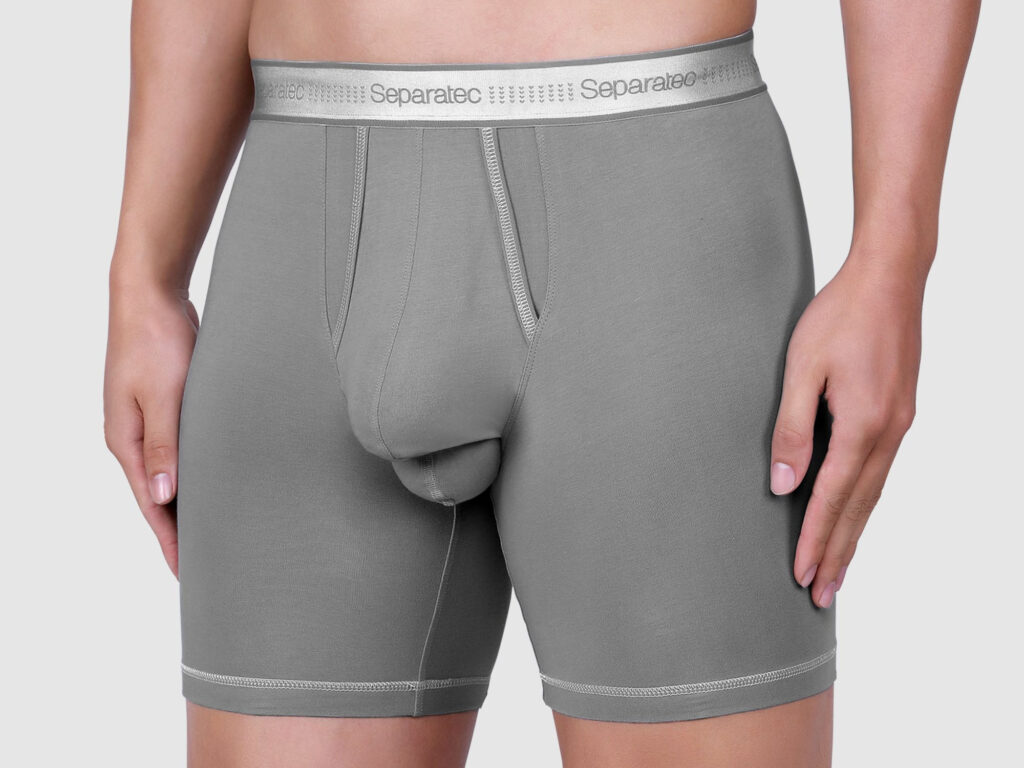 Double pouch
The newest style in the pouch underwear market is the double pouch. These take the concept of a pouch and, well, they double it, giving you separate spots to put your penis and balls. If you're particularly uncomfortable with having everything in a single pouch, these provide a layer or two of fabric between the twig and the berries, reducing friction, sweat, and stickage.
These are designed for average to above-average men. Typically these consist of a snug cradle area for the balls and a vaguely triangular compartment in front of that in which you place your dick, usually through a circular porthole.
My personal experience is that these are not a great match for men with a very large flaccid penis (the front pouch is unsecured and very stretchy, so there's little floppage control) or that have large or low-hanging balls (the cradle design may not be adequately sized and be uncomfortably snug or squeeze you out a gap in the front or back between your thighs). Some men may find the porthole arrangement uncomfortable depending on how their own equipment is mounted.
As these are relatively new, only a handful of brands are on the market: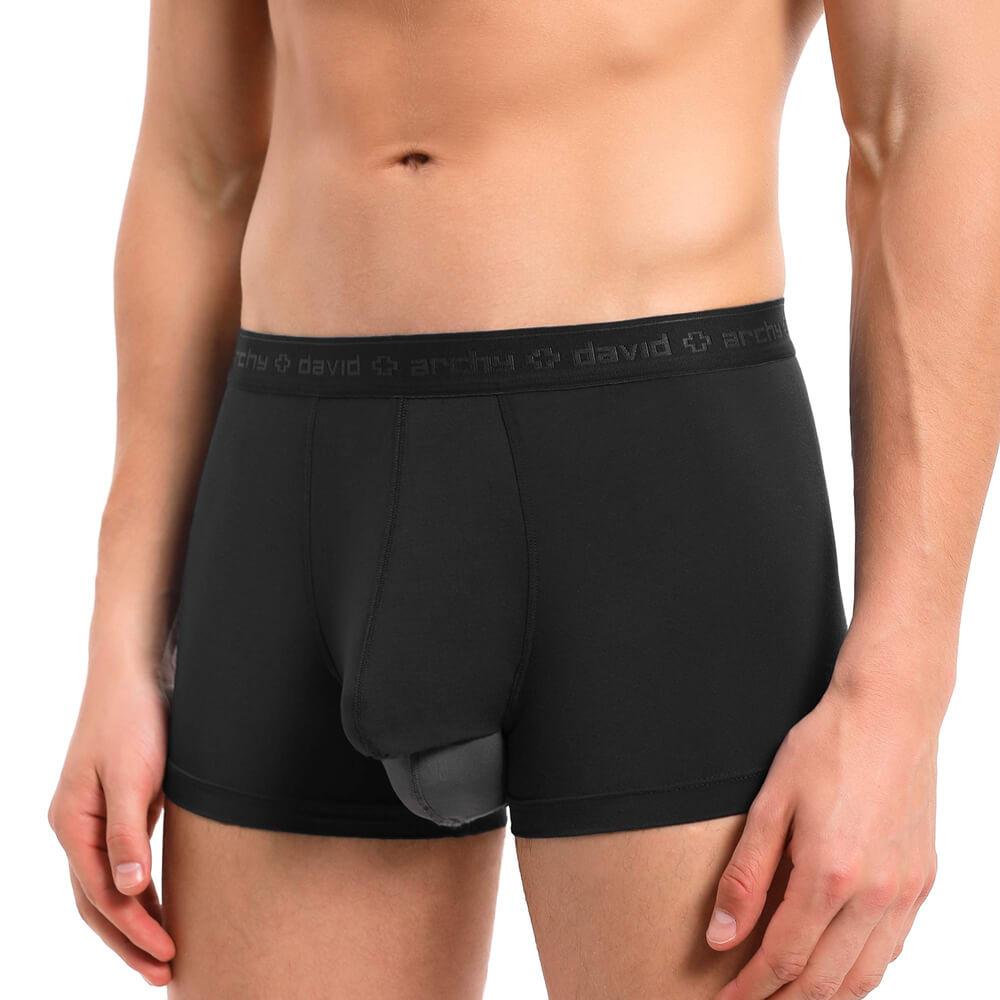 David Archy dual pouch trucks with fly
Keep the twigs and berries separated and comfortable with a dual-pouch design and sporty short trunk legs.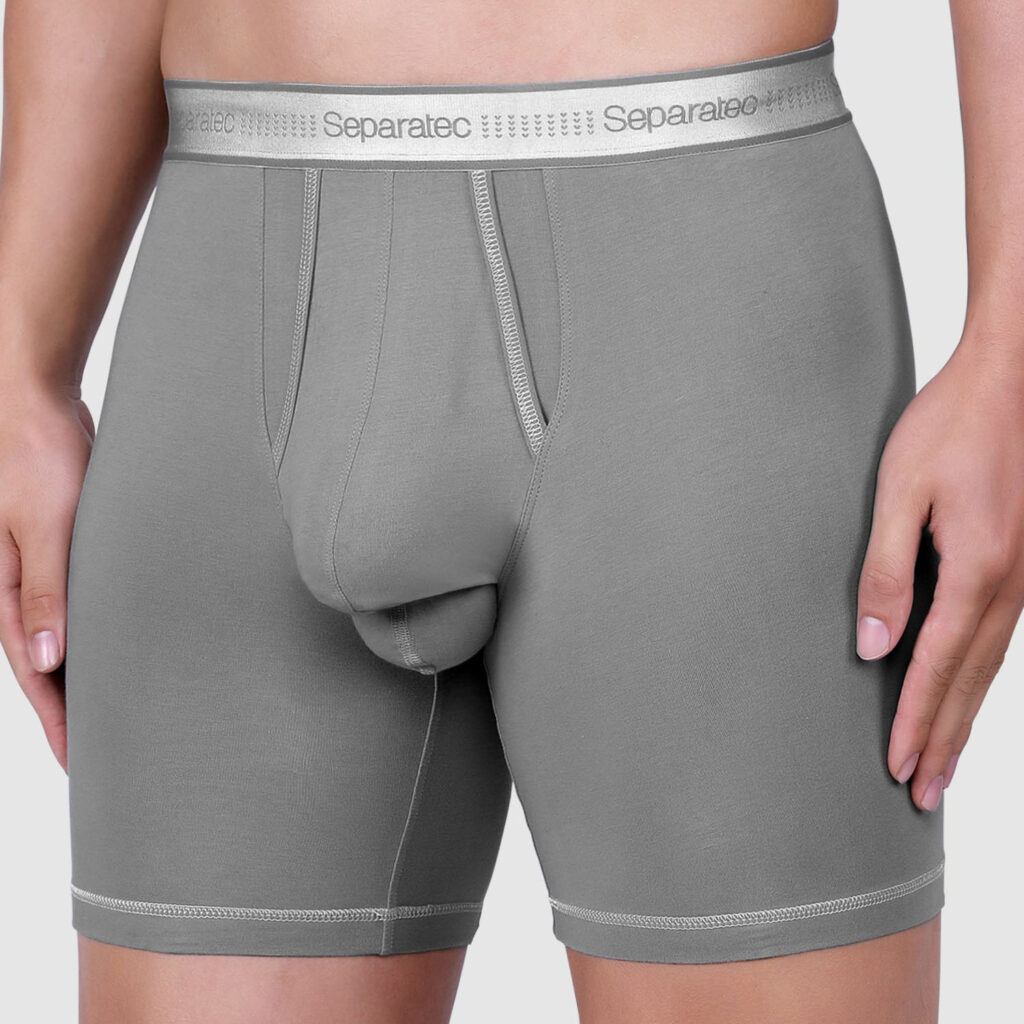 Separatec cotton dual pouch boxer briefs
Comfort awaits in the signature dual-pouch Separatec design, keeping your penis and testicles separated from each other and your legs for better support and moisture control.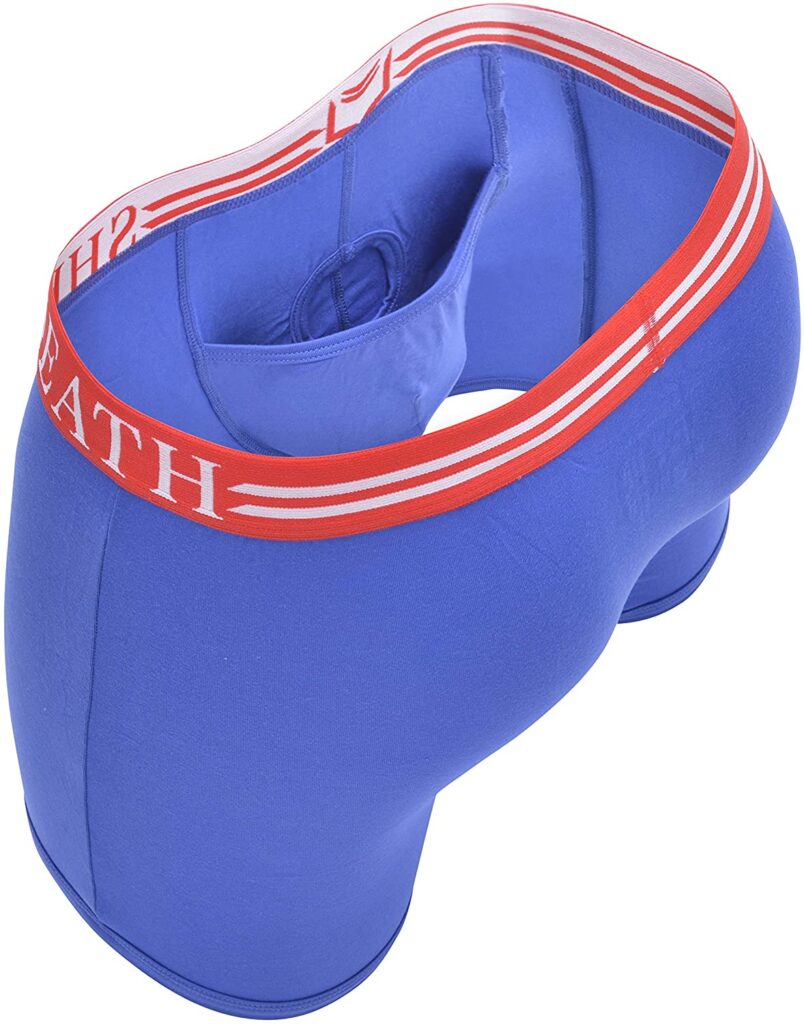 Sheath Dual Pouch 4.0 boxer briefs
Get the comfort and support of a dual-pouch design, but contained within a normal-looking boxer brief shell. No need to show off, right?
So that's pouch underwear: undies with the space a guy actually needs. They're not only for guys with big dicks, but they can an essential asset in our wardrobes. There are many options and there's no one best choice, so hopefully this helps you along the path of finding the right underwear for your junk.