There's a new king in Condom Town: the extra-extra-wide My.Size Pro 72. This new beast of a condom measures in at 72mm nominal width, slightly larger than the previous maximum of 69mm. It's a great option for men with 6.25 inches girth or more, and the absolute largest traditional condom sold anywhere on Earth. On top of that, the My.Size Pro line uses a hypoallergenic natural Vytex latex. There's just one problem for any Americans reading this: they're bigger than the FDA regulates for sale in the USA, and no traditional retailer is going to want to sell unregulated medical devices. So what are you and your girthy dick to do?
Buy from an importer! Since the My.Size Pro line launched in Europe in mid-2021 only a few US-based retailers have started importing the condoms for resale. You'll end up paying a bit more for the privileges, and possibly waiting a little while for delivery, but that's the price we sometimes have to pay for comfort and safety. It might be worth buying more than you need right now so you can have a stash ready for when you do need them.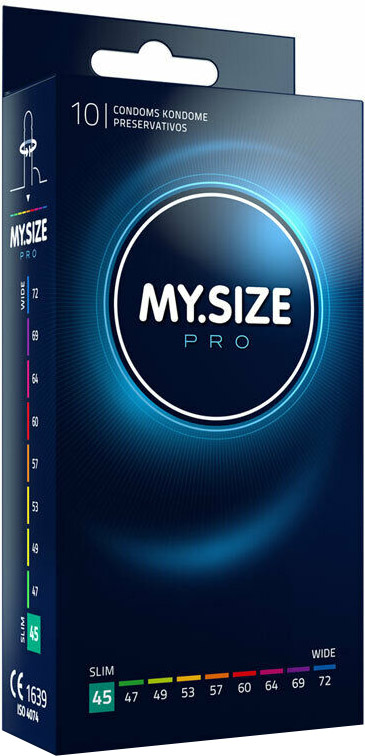 My.Size Pro 72
72mm nominal width
Say hello to the new largest traditional condom on the market, the 72mm nominal width My.Size Pro 72. Made from hypoallergenic Vytex latex, this condom is made for the thickest of penises.
My.Size Pro 72 Alternatives
Maybe you don't have time to wait for an importer to ship to you. Maybe you don't want to risk buying condoms that aren't FDA certified. Maybe you just want other options. Behold, here they are. Since we're looking at very large condoms here, you'll still likely be forced to buy online.