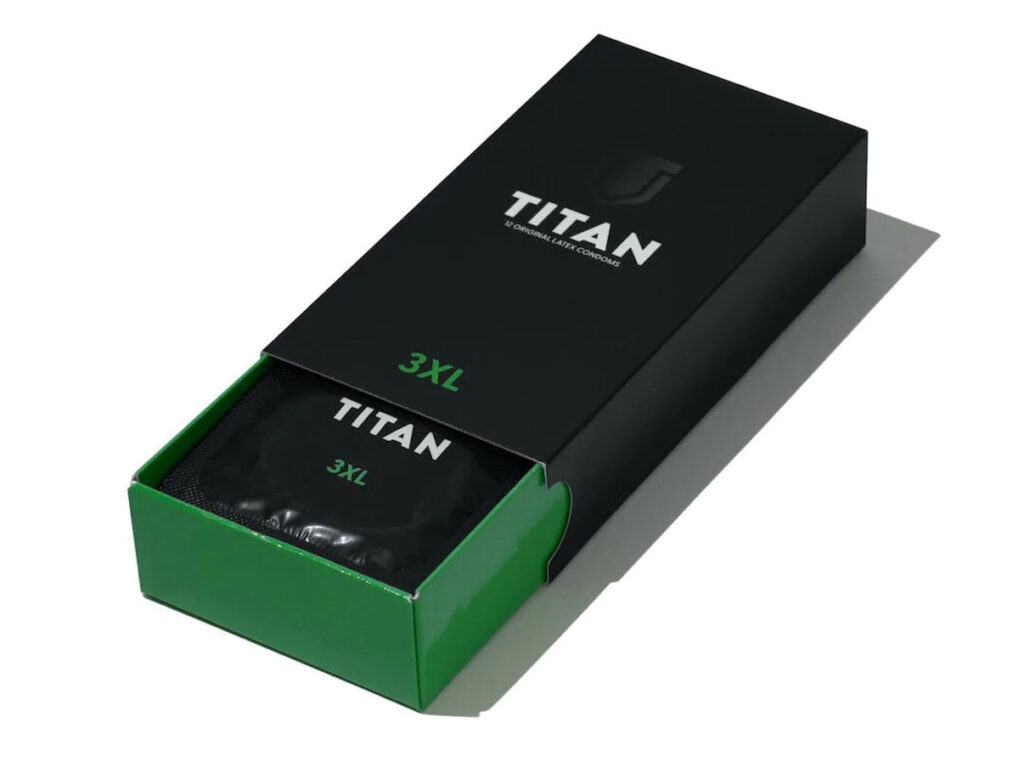 Pardon the pun, but we have good news: the US FDA's *ahem* stranglehold on condom sizing in the United States appears to be loosening. Several years after approving the first 64mm condoms from MyOne, the FDA has granted authorization to Titan Condoms to market a range of large condoms ranging up to a roomy 69mm.
A 69mm nominal width puts the Titan 3XL condom in the upper reaches of condom sizing (topped only by the 72mm MySize, which isn't even sold in the USA). But for American condom buyers, right now it is the only FDA-cleared 69mm condom and the largest condom you can buy in the USA without having to import from Europe.
And for those that aren't sporting a 6-inch or greater girth befitting a 69mm condom, Titan also offers three other sizes larger than the standard 52/53mm condom. In fact, as the name might suggest, Titan doesn't even have a "regular" size condom — their smallest is a "large":
Titan L: 57mm (best fits 5.0-5.25 inches girth)
Titan XL: 60mm (5.25-5.5 inches girth)
Titan 2XL: 64mm (5.5-6.0 inches girth)
Titan 3XL: 69mm (6.0+ inches girth)
Interested shoppers can grab a starter set that includes six of each condom size, pairs of a dozen each of two neighboring sizes so you can figure out which one is best for you, or a single size in packs ranging from 12 to 96 condoms. All are made of standard latex with a light silicone lube coating — they're just like any other condom, just bigger.
The full Titan range is currently only available online from Titan and few specialty retailers, and while they're not the cheapest condoms, they are roughly comparable to the pricing you'll get on the larger condom packs you can buy in most stores.